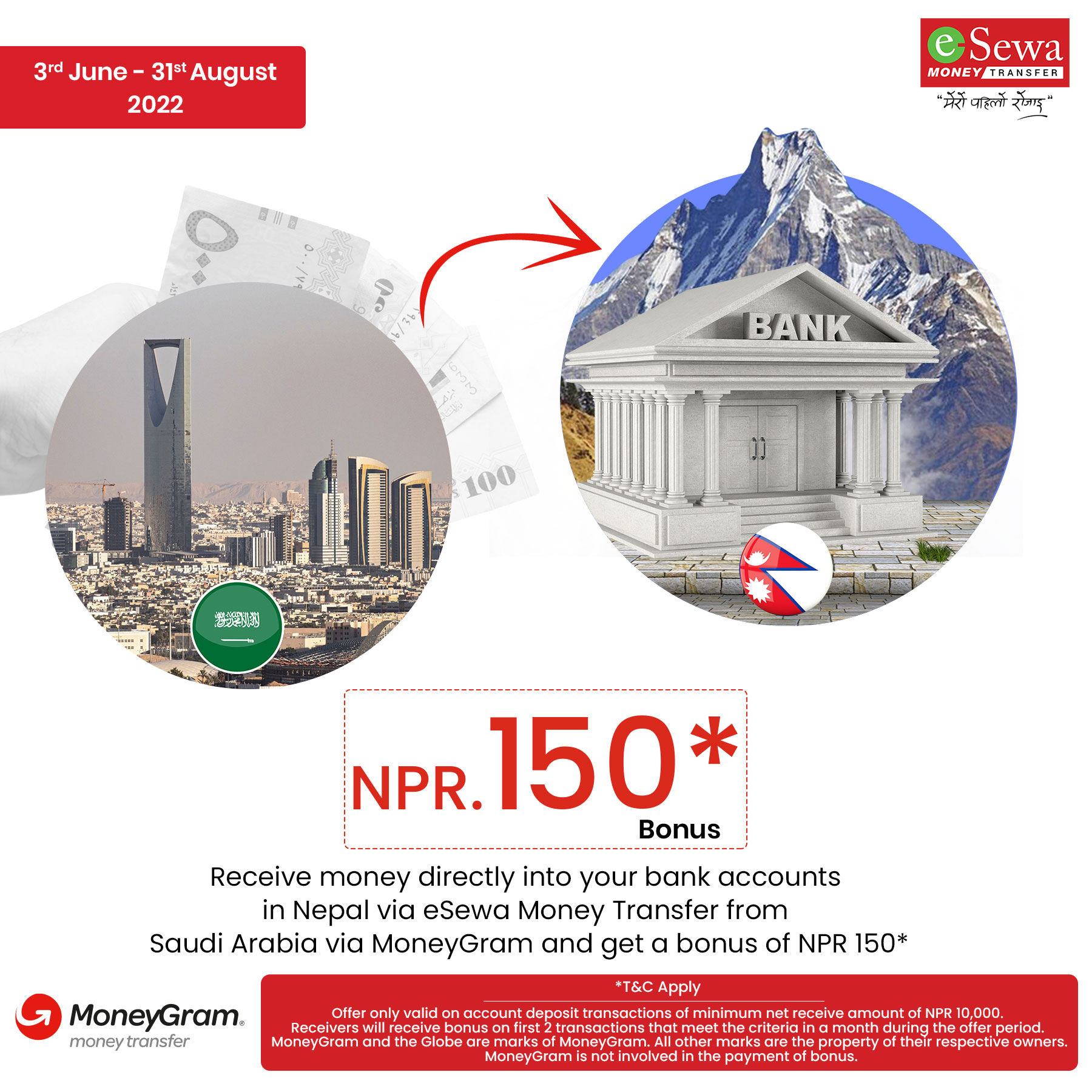 MoneyGram NPR. 150 bonus campaign from Saudi Arabia
*T&Cs Apply.
The Offer will be valid from 3rd June 2022, 12: 00 AM (Nepal time) and ending on 31st August 2022, 11:59 PM (Nepal time), both days inclusive ("Offer Period");

The Offer will be valid on:
International remittance transactions sent from the Kingdom of Saudi Arabia via MoneyGram to any bank account in Nepal via eSewa Money Transfer; and

International remittance transaction with a minimum net payout amount of NPR 10,000.
During the Offer Period, the receiver will receive a bonus in the amount of NPR 150 ("Bonus") on the first two (2) transactions in a month that meet the above-mentioned criteria ("Offer").

In order to receive the Bonus, the transaction must be successfully credited into the receiver's bank account in Nepal.

For disbursement of Bonus, the account status of the receiver must be active. Bonus will be deposited by eSewa Money Transfer into the receiver's bank account as a separate transaction within 24-48 hours from the successful credit of the remittance amounts into the receiver's bank account.

eSewa Money Transfer reserves the right to review and/or cancel the terms and conditions of this campaign in case of suspicious activity and events beyond control without prior information to any party.

MoneyGram is not involved in the payment of Bonus.

सर्तहरु लागु हुनेछन्

१. यो योजना June 1 2022, 12:00 AM देखि लागु भएर, August 31 2022, 11:59 PM सम्म कुल ३

महिना सम्म मान्य हुनेछ।

२. अफर निम्न कुरामा मान्य हुनेछ।

- योजना अन्तर्गत रकम कारोवार साउदी अरब अधिराज्य बाट मात्र मनिग्राम र इसेवा मनी ट्रान्सफर मार्फत नेपालको कुनै पनि बैंक खातामा भएको हुनुपर्ने।

- योजना अवधिमा रु. १०,००० वा सो भन्दा बढी रकम कारोवार भएमा मात्र बोनसका लागि हकदार मानिने।

३. योजना अवधीमा पाउने व्यक्तिले माथि २ नम्बरमा उल्लेखित प्रकृया पुरा गरि महिनाको पहिलो २ कारोवारमा रु. १५० बोनस प्राप्त गर्नु हुनेछ।

४. यो योजना बैंक खातामा आएको कारोवारमा मात्र लागु हुने।

५. बोनस प्राप्त गर्न, पाउने व्यक्तिको बैंक खाता चालु अवस्थामा रहनु पर्ने छ, यदि बैंक खातामा समस्याका कारण पाउने व्यक्तिले बोनस रकमबाट वन्चित हुनु परेमा इसेवा मनी ट्रान्सफर जिम्मेवार हुने छैन।

६. योजनाको सर्तहरु अनुसार नरहेका कुनै पनि प्रयोगकर्ता वा कारोवारलाई बोनसका लागि अयोग्य ठहराउने अधिकार इसेवा मनी ट्रान्सफरमा निहित रहनेछ।

७. मनिग्राम बोनस रकम उपलब्ध गराउने मामलामा संलग्न हुने छैन।