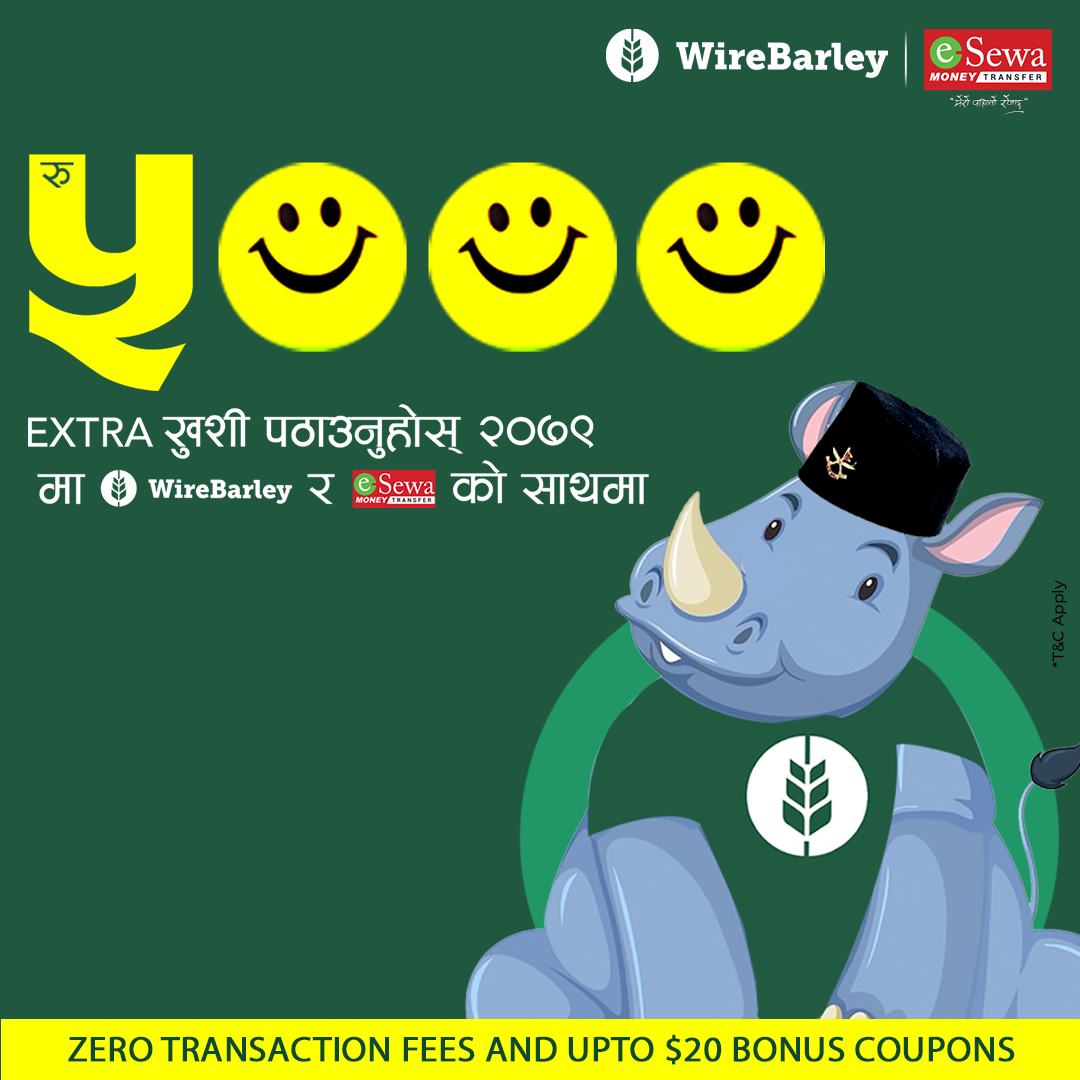 WireBarley Offer: Chance to Win Rs. 5,000!
Don't you always feel like you're paying way too much in transaction fees? Sending money from overseas to Nepal has always been a bit difficult with extra charges and transaction fees. To reduce your headaches, we have got you covered. Enter the code "NEPAL" in the INVITE CODE to get a bonus coupon of 10$. Also, get an additional 10$ coupon with every successful referral to your friends and family.
But there's more!
In association with WireBarley, EMT brings you a chance to win Rs. 5,000! On top of the bonus coupon and free transactions, you have a chance to win Rs. 5,000 if you send money via WireBarley to Nepal in Esewa Money Transfer.
Exciting, right? Don't miss out on this opportunity. You could be one of the 10 winners we will be picking every day from 1st Baisakh to 10th Baisakh 2079 (14th April to 23rd April 2022) to win Rs. 5,000! All winners will be announced on 26th April, 2022.
Terms & Conditions
The prize money is exclusive of Tax.
Only one winner is eligible for one prize only.
The selection of the winner will be done from successfully paid remittance transactions only.
Both the sender and the nominee of the campaign prize have to submit their KYC document for verification before the collection of the prize.
eSewa Money Transfer reserves the right to review and/or cancel the terms and conditions of the campaign in case of suspicious activity and events beyond its control without prior information to any party.
This campaign is effective from 14th April to 23rd April 2022 and the winners will be announced on 26th of April 2022.